The IQ Training Vests 3.0 are HERE!
Product information "IQ Summervest 3.0"
The IQ Summer Vest combines all the functions of our new training vest 2.0 and is suitable for the warmer days of the year. The vest is made of a light black with a waffle look. Stable mesh fabric on the back and shoulders ensures for air permeability. 
Our vest has been a bestseller for a long time for many reasons! Even the K9 handlers of the German police wear a special version of it. And this new version even comes with 1. a stringcord system for the chest pocket (you no longer need to purchase this separately) and 2. is compatible with our new IQ Magnet Bag! Take a look at its features!
Big Front and Back Pockets
The IQ Summer Vest has all the pockets that you need: The pockets for treats are very large, while the back pocket offers enough space for your leashes and toys. 
Convertible Chest Pocket (patented)
Our Summer Vest has two separate chest pockets. At your choice, you may convert these two pockets into one large chest pocket. Why? Insert your reward in the center pocket prior to a recall or retrieve exercise. You can now reward your dog in the front position with both hands from the center of your body. This will teach your dog to come in and stay straight in front of you. If your dog, on the other hand, anticipates a toy coming from a side pocket, you will have a much harder time teaching him to stay straight. The dog's body generally gravitates to the direction in which he expects the reward to come from. This feature is key in our trainings and we never train a front sit without the convertible chest pocket. 

String Cords for Chest Pocket
Increase your dog's focus even more, by using our stringcords to open the chest pocket. Simply pull the string cords at your hips (not leaving your basic position) and the toy will drop down for your dog to catch. This will make for a higher expectation and expression: a lot of dogs enjoy the excitement that comes with a spontaneously dropping toy.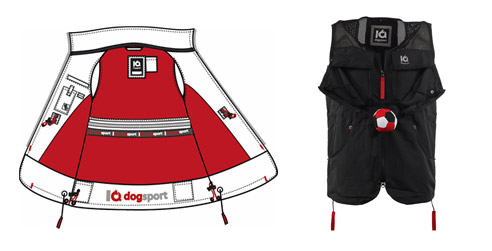 Compatible with IQ Magnet Bag  
The IQ Dogsport vest 3.0 is compatible with our new IQ Magnet Bag. It is for you if you are workig on your dog's heeling position or his open expression. 
The IQ Magnet Bag can be attached at the bottom of your left armhole: it is almost invisible (and even more so for your dog). Insert a ball or other small toy and close it easily with its magnet closure. Whenever you are ready to reward your dog, pull the string cord on your right side and the toy will drop.
Why wouldn't you just tuck a toy under your left arm the way many have done it for a long time? Because the dog knows exactly if the toy is there or not and will not have a reliable behavior for trials and competitions. For starters, the dog can see the toy tucked under the arm. In addition, no one walks naturally with a toy tucked under. Watch our videos to see how we use it in training.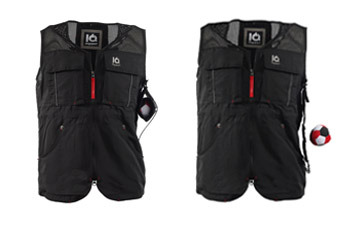 Back Slot 
If you use a tracking flag, whip or position stick, you will be happy to store it in the vest's back slot.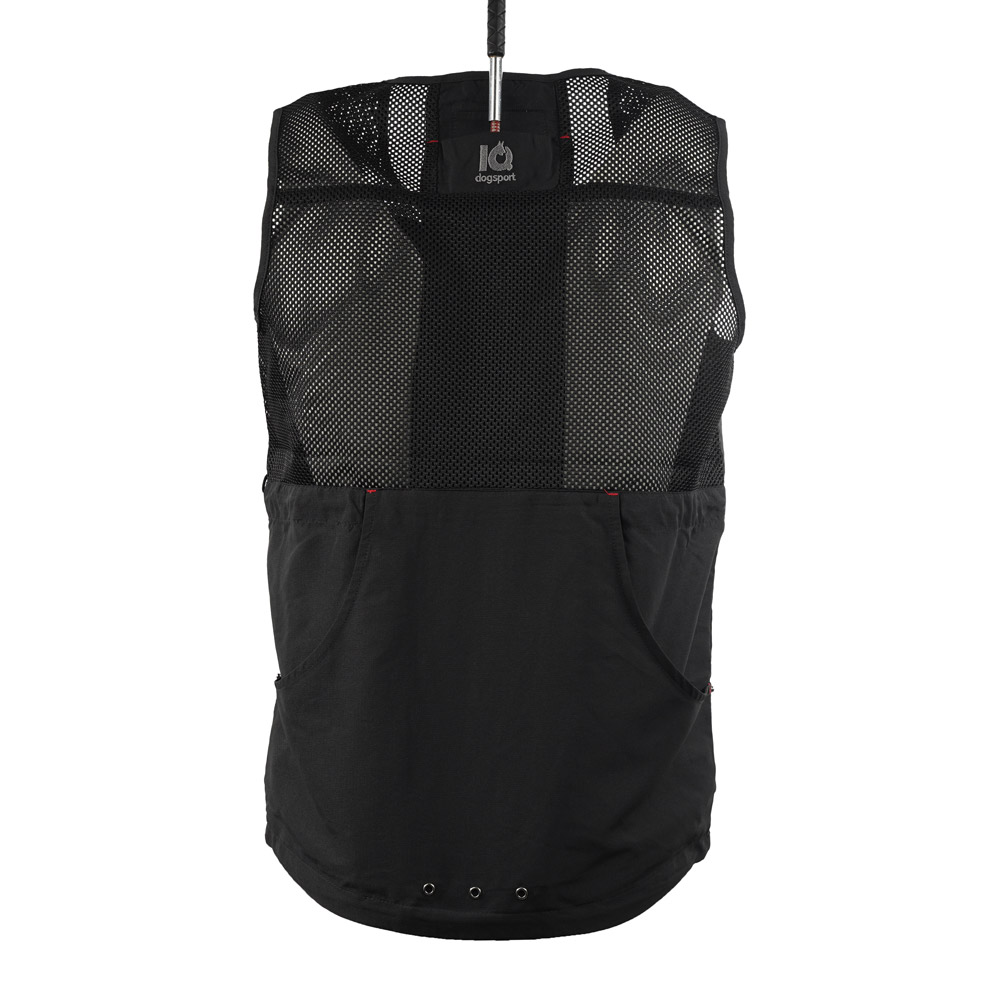 Magnet Pockets
If you train with magnetic toys, use our magnet pockets on the inside of our vest to store them safely. This way, it is enough to only use one magnet rather than two (easy way to save money). In addition, you will not lose the magnet accidentally. Something that happened to us a lot in the past when we had dogs who got the ball on their own upon release.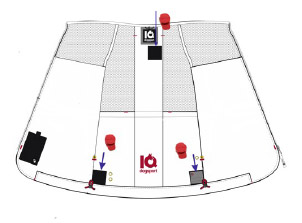 Tried and tested
 Of course, the IQ dog sports vest is super robust, scratch-resistant, water-repellent and breathable! This vest has gone through every imaginable endurance test... From Mali to Rottweiler, from Dobi to German Shepherd... Sport or work... Wind, rain, snow and mud... Despite its super comfortable materials and stylish look, its with you to last. 
Measurements
| | | | | | | | | | |
| --- | --- | --- | --- | --- | --- | --- | --- | --- | --- |
| Size  | XXS | XS | S | M | L | XL | XXL | 3XL | 4XL |
| ½ Chest Widht  | 47 | 49 | 53 | 57 | 61 | 65 | 69 | 73 | 77 |
| ½ Hem Widht  | 47 | 49 | 53 | 57 | 61 | 65 | 69 | 73 | 77 |
| Shoulder Width: armhole to armhole | 36 | 38 | 40 | 42 | 45 | 48 | 51 | 54 | 57 |
| Center back length from neckline | 64 | 66 | 68 | 70 | 73 | 76 | 79 | 82 | 85 |
Washing Instructions
Wash at 40° C
Dry cleaning possible
Do not iron the jacket
Do not use chlorine
Do not tumble dry
Please note:  The IQ Magnet pocket can only be purchased separately and the removable food pockets are available only on request